About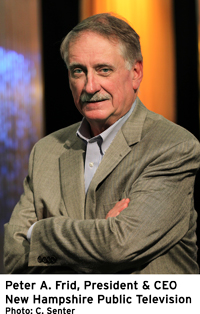 New Hampshire Public Television, New Hampshire's only statewide locally owned and operated television network, engages minds, connects communities, and celebrates New Hampshire with programs that entertain, educate and enrich.
NHPTV offers the citizens of the Granite State three unique services: commercial-free, locally focused and PBS TV programs; educational resources (on-air, online and in the community); and a high-tech public safety communications infrastructure. Beyond broadcast, NHPTV offers educational and community initiatives that complement and build on its on-air programs.
Five transmitters carry the station's signal to 98 percent of the Granite State, to nearly a 1 million viewers each month, and 90,000 children weekly. NHPTV's programs are available free to everyone via over-the-air broadcast, not just through paid cable and satellite companies.
As a member of the PBS network, NHPTV viewers enjoy a range of programs that focus on nature, science, the arts, public affairs, kids and regional topics, on series like Nature, NOVA, Masterpiece, American Experience, Great Performances, Curious George, Antiques Roadshow, PBS NewsHour and the acclaimed documentaries of Ken Burns. Local award-winning favorites like Windows to the Wild, Granite State Challenge, and independently produced programs with a New England focus also are featured on the station's multiple channels, including NHPTV PRIME and NHPTV EXPLORE.
Many of NHPTV's educational resources and workshops are offered free of charge to educators, parents and children. In keeping with its public service focus, NHPTV actively partners with community organizations to spotlight topics such as literacy, childhood obesity, health care, aging, bullying, math and science literacy, and the environment.
Let us know what you want to watch, and how we can help you stay connected. E-mail us with your ideas and comments.

– Peter A. Frid, NHPTV President and CEO